November 27, 2014 By Dave Harrison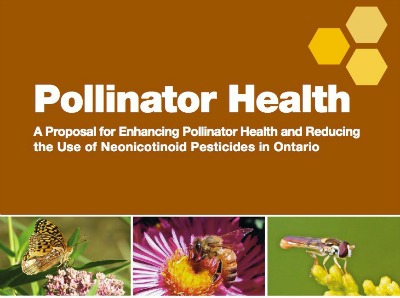 Nov. 27, 2014, Toronto — Ontario is taking action to strengthen bird, bee, butterfly and other pollinator health to ensure healthy ecosystems, a productive agricultural sector, and a strong economy.
Pollinators play an important role in Ontario's agricultural productivity. Crops such as apples, cherries, peaches, plums, cucumbers, asparagus, squash, pumpkins, and melons need help from pollinators to grow.
The federal Pest Management Regulatory Agency has found a link between planting corn and soybean seeds treated with neonicotinoids – an agricultural insecticide – and bee deaths in Ontario. The province's approach will help keep crops healthy and improve the environment by:
• Working towards a goal of 80 per cent reduction in the number of acres planted with neonicotinoid-treated corn and soybean seed by 2017.
• Reducing the over-winter honeybee mortality rate to 15 per cent by 2020.
• Establishing a comprehensive Pollinator Health Action Plan.
The province will consult on a proposal to reduce the use of neonicotinoid-treated corn and soybean seed. If approved, new rules on the use of neonicotinoids will be in place by July 1, 2015, in time for the 2016 agricultural planting season.
Ontario has released a discussion paper on pollinator health for comment over 60 days on Ontario's Environmental and Regulatory Registries. Consultation sessions will be held in December 2014 and January 2015 to seek input from industry, researchers, organizations and individuals.
http://www.omafra.gov.on.ca/english/pollinator/discuss-paper.pdf
According to the Ontario Provincial Winter Loss Survey, in 2013-14, bee deaths in Ontario reached their highest recorded level at 58 per cent.
Scientific evidence shows that neonicotinoids harm bees by disrupting their ability to feed, navigate and reproduce, making them more succeptible to bacterium, virus, or other micro-organisms that can cause disease.
Bees and other pollinators are responsible for pollinating roughly 13 per cent of agricultural crops in Ontario (crops worth about $897 million), and support $26 million annually in honey production.
---
Print this page